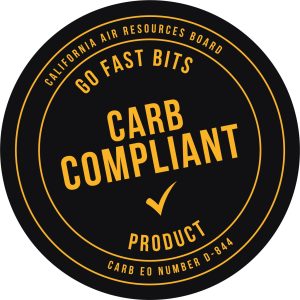 T9351 California Air Resources Board Compliant Part
What is the California Air Resources Board Compliance? 
The California Air Resources Board (CARB) in the United States of America, enforces and adopts specific rules and regulations to achieve healthful air quality. As this applies to vehicles, what's under the hood is important to air quality.
How does this apply to aftermarket parts?
To ensure that the systems to ensure healthful air quality are maintained, California Vehicle Code Section 27156 and the Federal Clean Air Act prohibit modifications that increase motor vehicle emissions.
If properly designed, as per the CARB resources, "most performance modifications do not increase vehicle emissions." The legislation also allows for installing parts or modifications where it has been proven by the manufacturer and the Air Resources Board that they do not increase vehicle emissions.
Are Go Fast Bits compliant? 
GoFast Bits have approval for the DV+ T9351. The product is CARB approved, and also 50 states legal in the U.S.A
50-state legal product means the part is lawful in California and other states where the laws are enforced.
How do I know if the part I'm using is CARB Compliant? 
Use the link below to look up current California Air Resources Board approved aftermarket parts.
Are there exemptions?
Some products are considered CARB-Exempt, which means it has undergone rigorous testing as per the legislation and is not considered harmful to emissions. If it passes this testing, it will be assigned a CARB Executive Order number, which will be displayed on a sticker, tag, or be marked on the part itself. Vehicle owners must clearly show the number during emissions testing on vehicles in states with CARB regulations in line with the legislation.
Approved Vehicle list